Hello! We at Team Visionary hope you had a nice week! Today, we're here with the 5 Best Minecraft Mashup Packs to Kick Off 2021. 
Minecraft is a lot of things to a lot of people: for some, it's a fun and casual pastime; for some, it's a career and full-time job. Some players live for the adrenaline rush of competing against other players in heated, bloody battles. Others might spend their Minecraft days tilling away at wheat fields, and their nights huddled in cozy little farmhouses. 
For a small community of creative content creators, however, this wondrous game and its flexibility is nothing less than their own personal universe, a platform to build and create where the sky's the limit (and sometimes not even then). 
Here are some examples of such creativity where map designers, writers and artists have come together in unity to create incredible experiences in the form of mashup packs. 
Mashup packs are all-in-one experiences that include a resource pack, beautiful builds, custom mechanics, models and textures, and most importantly: hours and hours of fun! They're guaranteed to give you the most bang for your buck, and they're perfect for any player looking to sink a few fun-filled hours into Minecraft with a group of friends. 
These are the best Mashup Packs we could find to kick off the start of 2021 with — enjoy!
Valhalla Mashup by Atheris Games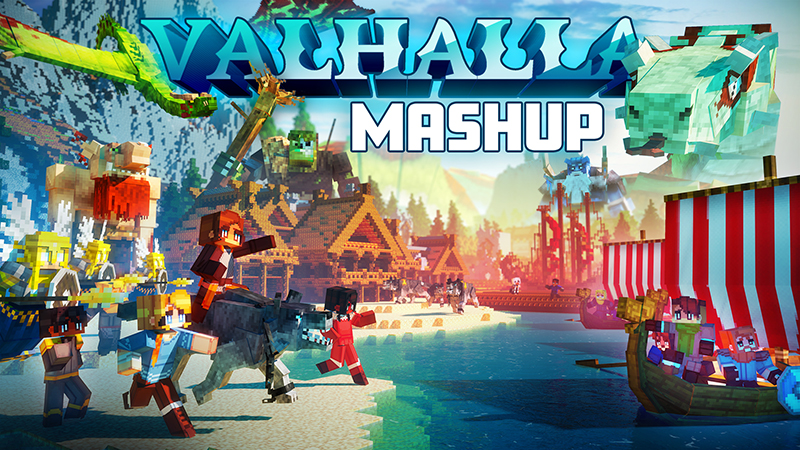 Gear up, adventurer! Unlock the secrets of Valhalla and explore the sprawling, massive city. Fight your way through the winding dungeons, puzzles and mazes scattered across the legendary lost city of Valhalla! Pit your strength and skill against the vicious creatures that roam the land, and brave the hazardous traps of the island! 
This map promises unforgettable battles in its unique, open-world gameplay, and it's certainly poised to deliver. Valhalla Mashup by Atheris Games boasts a vivid, bright and colorful open world. Embark on a long adventure with tons to do, explore and kill! The map is beautifully built, the monsters all come with custom models and mechanics, and you'll be able to explore Minecraft with never-before-seen vehicles and mounts. 
This mashup pack also comes with 16 gorgeous HD skins to keep you warm during your harrowing journey! 
Chinese Garden Mash-up by Linscraft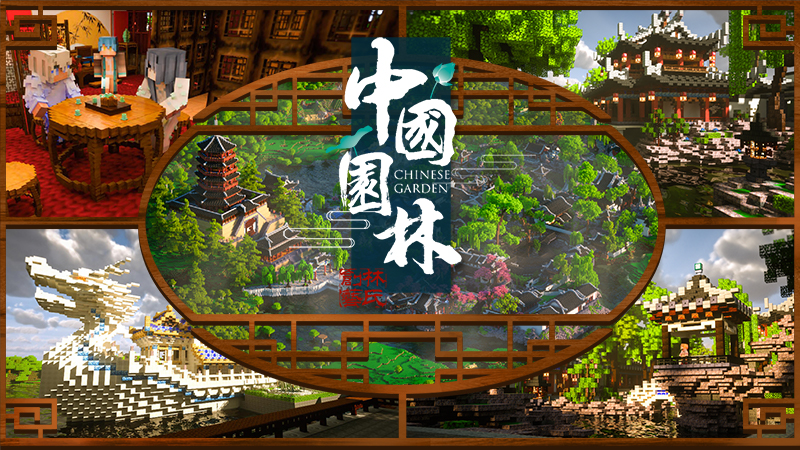 For millennia, the art of gardening has been a huge part of ancient Chinese culture. Truly skilled gardeners are able to meld together the harmonious images of stones, water, trees, flora and foliage into a beautiful painting full of life and color. Today, you will be the gardener, and you will be producing your best masterpiece yet. 
Undeniably, Chinese Garden Mashup by Linscraft is one of the most beautiful pieces of content on the market, period. You can really tell how much love and passion has been put into the pack, from the vibrant colors and detailed textures to the custom models and attention to cultural detail. Chinese Garden Mashup includes a whopping 47 custom furniture models and 10 garden bonsais for you to tend to and grow. The map also represents historical Chinese architecture in its buildings and massive dragon-head boat. 
This mashup pack also comes with 15 skins for you and your friends to look the part while building up and lounging in your very own Chinese Gardens.
Download Chinese Garden Mash-up
Sky Upgrade Mash-up by Mythicus
Discover the mystical lost city among the sky islands! Help the villages rebuild their homes and restore the kingdom to its former glory by finding the ancient treasures of the sky islands, and fighting off any monsters who have come to threaten your right to the kingdom. 
Sky Upgrade Mash-Up by Mythicus boasts one of the longest playtimes of any mashup packs you can get on the market — it promises 150 hours of fun-filled adventures, and it's not hard to see how it can deliver! You'll be dashing and leaping through the skies as you hunt down the relics you need and fight off over 50 (!!!) new monsters. Of course, you'll also be able to befriend some of these monsters and use them as mounts. Throw in the new end and nether bosses, and it's not hard to see how you can easily sink hundreds of hours into the pack.
This mashup pack also comes with 2 free skins, although it does offer over 30 matching skins for purchase on the side! It does, however, also come with a whopping 40 custom island builds for you to explore! 
Mutant Apocalypse Mash-up by Everbloom Games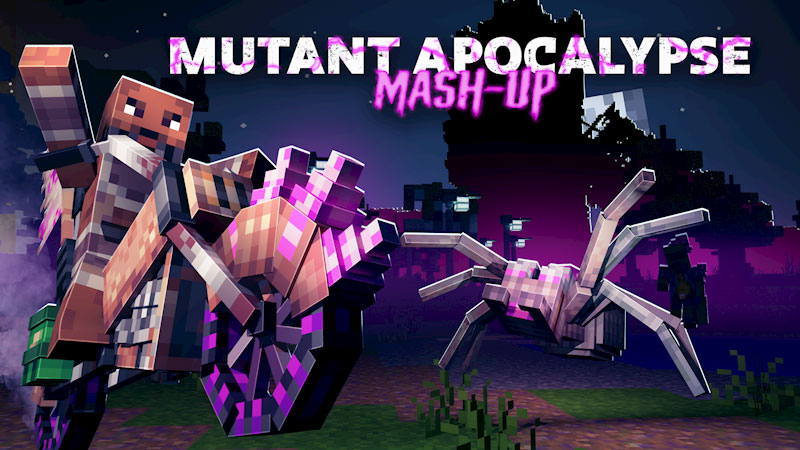 Venture through the ruins of a massive, collapsed city. Team up with the last vestiges of humanity to discover the mutant nest in the middle of a once-bustling city, hunt down horrifying mutant monsters and complete quests to uncover the truth of what happened to your world.
Mutant Apocalypse Mash-Up immerses you in the gritty truth of a post-apocalyptic world, with a fitting resource pack, scary custom models, and a deep, dark lore woven through the story. Collectibles and quests will slowly reveal the intricate truth of the apocalypse, and you'll need to keep fighting through mutant monsters to collect them all. Luckily, the map also comes with custom vehicles that'll make mowing down these mobs a piece of cake.
The map also states that you can run this in your current world to turn it into a mutant apocalypse! Though we'd really recommend that you make a backup of your world first, of course…
Download Mutant Apocalypse Mash-up
Pixelmobs Mash-up by Pixels & Blocks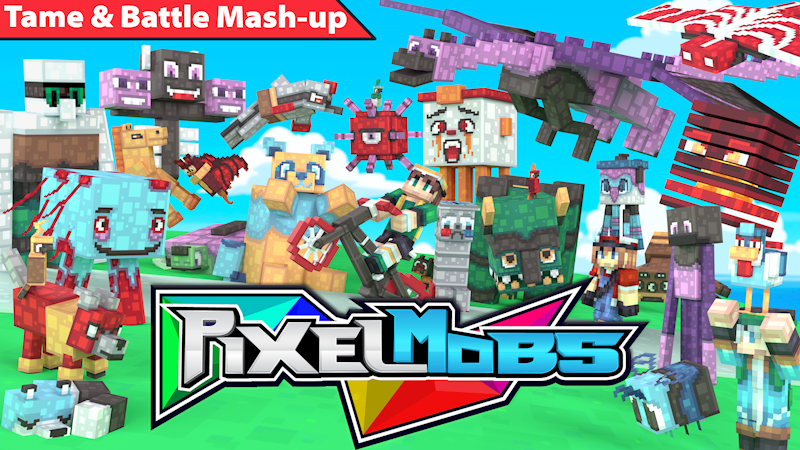 Explore vibrant worlds, beat down the forces threatening your city, solve fast-paced puzzles and most importantly, forge bonds of friendship with the adorable little creatures that roam around the Pixelmobs universe! 
Pixelmobs Mash-up by Pixels and Blocks is an incredibly creative pack it is, with over 75 unique, tameable Pixelmobs and 12 boss Pixelmobs for you to tame, battle against and conquer. You'll be able to adventure through a gorgeous adventure map, loot your way through ten cities and beat tough puzzles and parkour challenges to save the world from the terrifying boss monsters terrorizing it. Plus, with 17 skins and a custom resource pack, you'll be guaranteed to look fantastic doing it!
Conclusion
And there we have it! Forge your own legendary tales of valor and strength in the Valhalla Mash-up Pack, tame cute creatures in the Pixelmobs Mash-up pack, or fight your way through a mutated wasteland in Mutant Apocalypse Mash-Up. What world will you venture forth into first? 
With such a wide range of franchises, we certainly hope that you've managed to find tons of fun-filled hours amidst this list. Enjoy!