Hello! We at Team Visionary hope you had a nice week! Today, we're here with the 5 Best Minecraft Mashup Packs for Summer 2021. 
Minecraft is a lot of things to a lot of people: for some, it's a fun and casual pastime; for some, it's a career and full-time job. Some players live for the adrenaline rush of competing against other players in heated, bloody battles. Others might spend their Minecraft days tilling away at wheat fields, and their nights huddled in cozy little farmhouses. 
For a small community of creative content creators, however, this wondrous game and its flexibility is nothing less than their own personal universe, a platform to build and create where the sky's the limit (and sometimes not even then). 
Here are some examples of such creativity where map designers, writers and artists have come together in unity to create incredible experiences in the form of mashup packs. 
Mashup packs are all-in-one experiences that include a resource pack, beautiful builds, custom mechanics, models and textures, and most importantly: hours and hours of fun! They're guaranteed to give you the most bang for your buck, and they're perfect for any player looking to sink a few fun-filled hours into Minecraft with a group of friends. 
These are the best Mashup Packs we could find to enjoy the summer of 2021 with your friends with — enjoy!
Teen Demon High School Mash-Up by Goe-Craft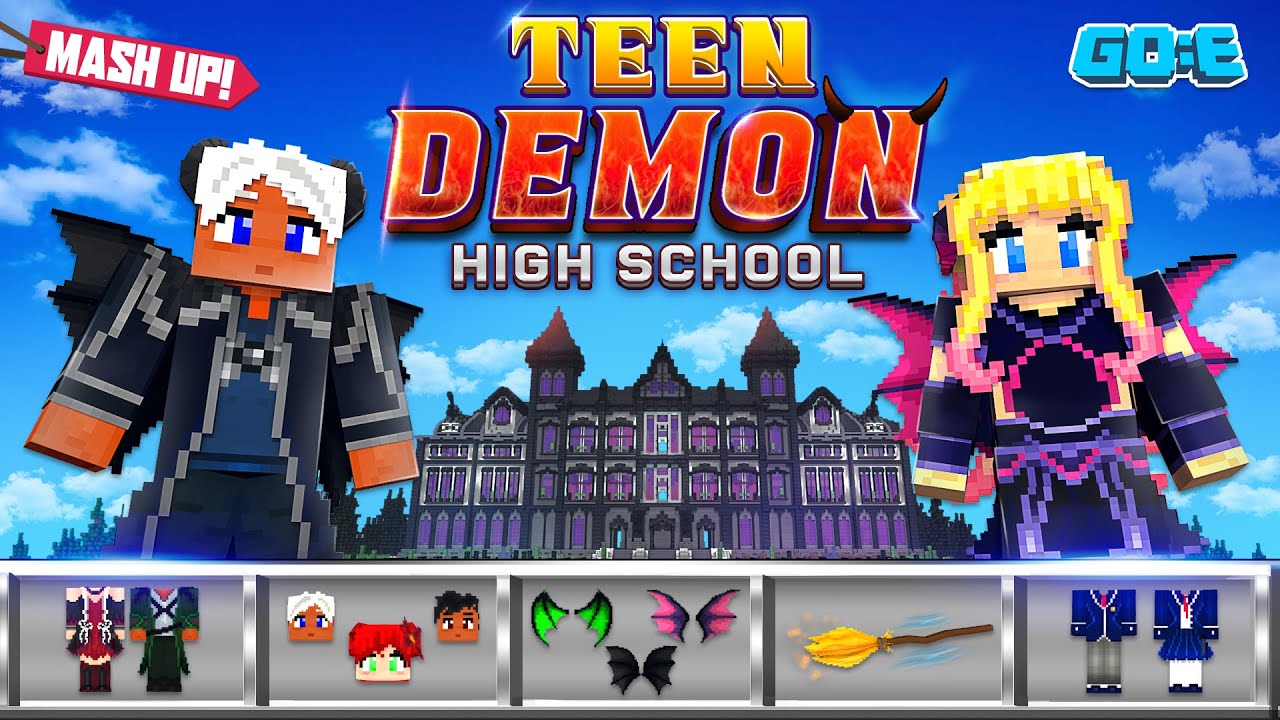 Teen Demon High School Mash-Up by Goe-Craft is a wonderfully made pack from a group of passionate content creators, adding in all the monster- and magic – filled mayhem you could ever dream of — into a high school setting! 
Firstly, this pack comes with over a whopping 1,000 clothing combinations, custom mobs, items, enchantments, currency, shops, and much more. It truly could be packaged as a separate game, and its price is certainly worth the content that it brings. These clothes not only match the fantasy theme but there is something for everyone and in every color. Throw in gorgeous wings, tails, and horns, and here we have a pack that lets you live out all of your greatest desires while looking amazing!
Broomsticks are also a major part of any magical highschool and with this pack, it's no different! Get your very own flying broomsticks to take to the sky in between classes or race with friends to see who is the best flyer. But your flying friends are not the only thing you'll be sharing the skies with! Ridable dragons are also in this world and you will be able to raise them straight out of their eggs to become lifelong companions.
Last but certainly not least, what is a demon high school without its magic and enchantments? You will be able to use custom enchantments which have their own unique animations and effects that are guaranteed to further enhance your ultimate demon highschool experience.
Download Teen Demon High School Mash-Up
Furniture Mashup by Mythicus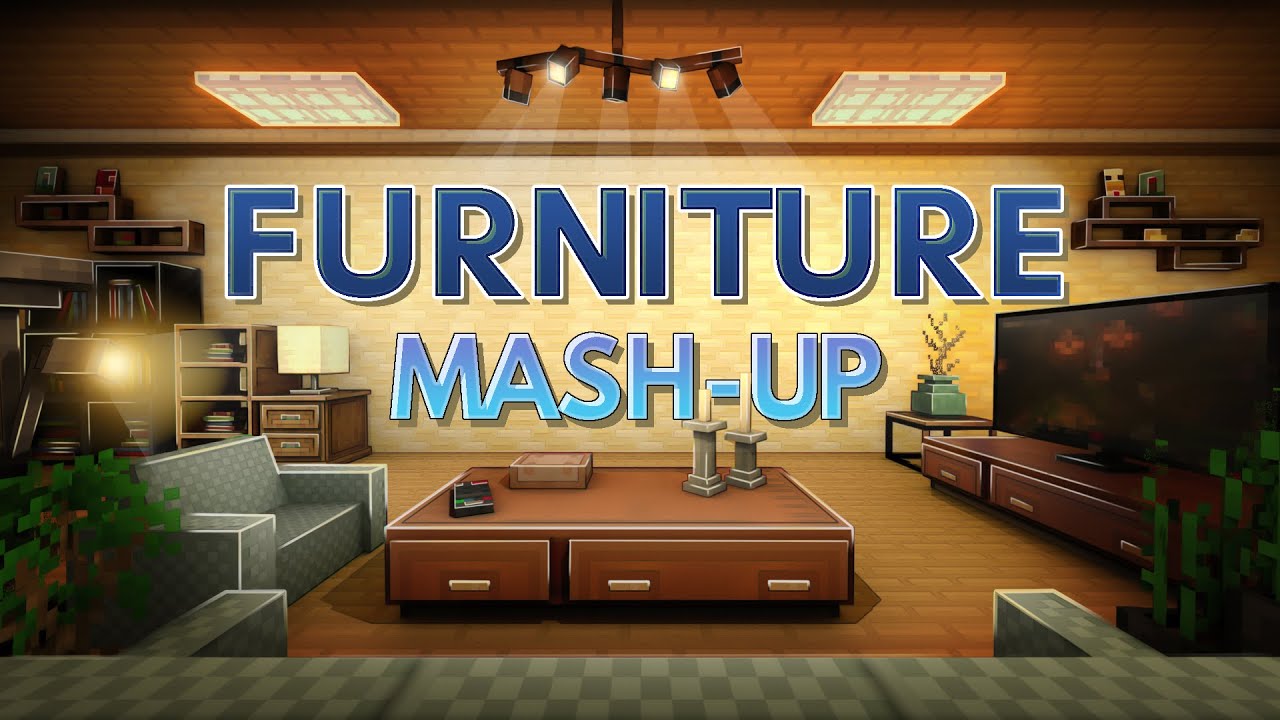 Furniture Mashup is here to deliver all of your decorating needs. This pack adds in over 450 pieces of furniture to use on the beautiful Paradise Island. On this island you can buy houses, cars, boats, helicopters, and even run away from paparazzi. Spend your time buying houses and decorating them or riding among the waves or on the streets in the Furniture Mashup pack. In fact this includes everything apart from the minecraft kitchen sink.

This pack adds in over 450 pieces of furniture which you can buy using Paradise island currency. You can place these pieces in the homes you buy to truly customize them and create any home you could imagine.Buy houses all over the custom made Paradise island which all range in prices, save up to get the most expensive or live the quiet life and buy smaller ones. Each house is grand and elegant and will allow you to customize them to make them your own.
You'll need something to travel from home to home or around the island, and this pack offers no lack of options: land, water, or even air. Each option has many choices you can pick from, ranging from look to color, and we guarantee that you'll be able to find something you love. These options include a wide arrangement of cars, boats, a helicopter, and even a bulldozer! 
Download Furniture Mashup
Dragon Mash-Up by Budo Studios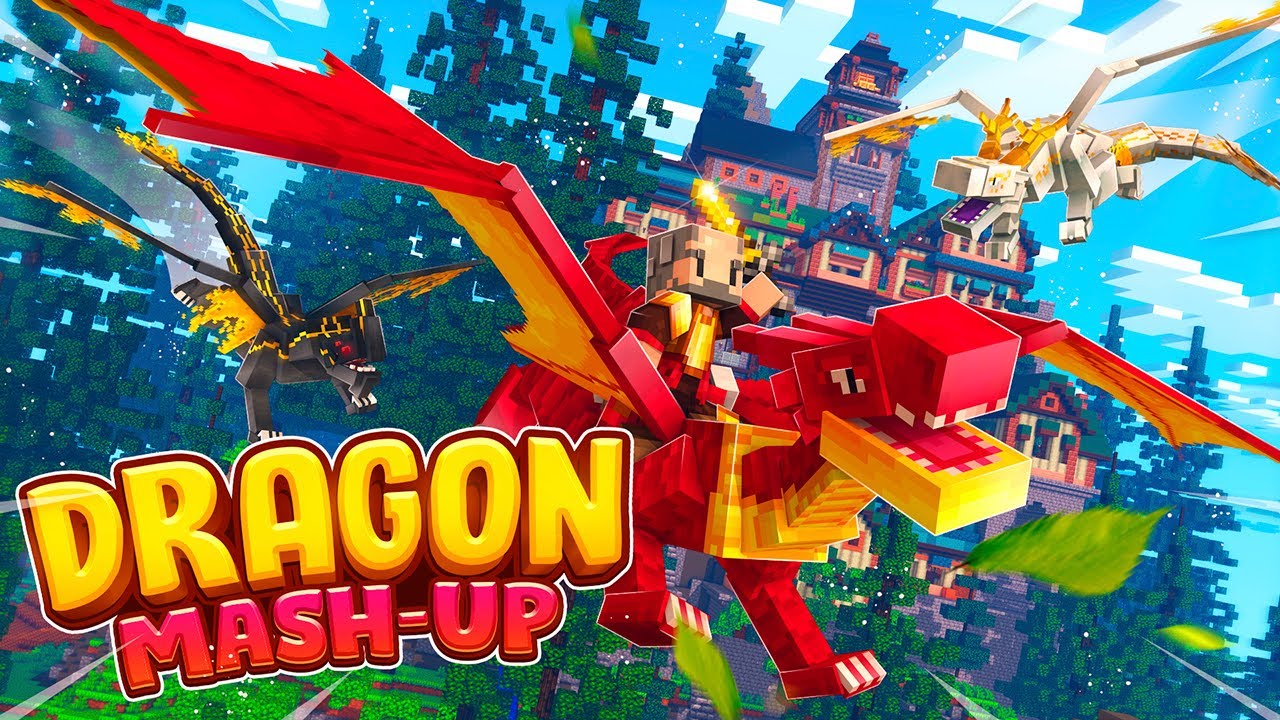 Explore the world of dragons with this mashup pack, which adds in 7 unique dragon species to collect and raise as your own. Choose from water, earth, wind, ice, dark, moon, and fire elements and train your dragon to do everything your heart desires. Once it's big enough, you'll be able to go with your new friend to explore the custom built, gorgeous Dragon Isles and find out what this exciting new world has to offer!
Each type of dragon can be raised from its egg to a child and finally to the dragon who will conquer the skies. During this entire time, you'll be able to also upgrade your dragon and bring out its better side more and more as you journey and get to know it. Equip custom armor to further enhance you and your dragon's fighting abilities, then battle it out against ferocious mobs to test your skills! Why not learn more about minecraft java resource packs with the Team Visionary free resources.

If you've ever wanted to soar through the sky with your very own pet dragon in Minecraft (and come on, who hasn't?), Dragon Mash-Up by Budo Studios is an absolute must-try for any dragon-lovers out there. 
Download Dragon Mash-Up
Cyberpunk Mashup by Team Visionary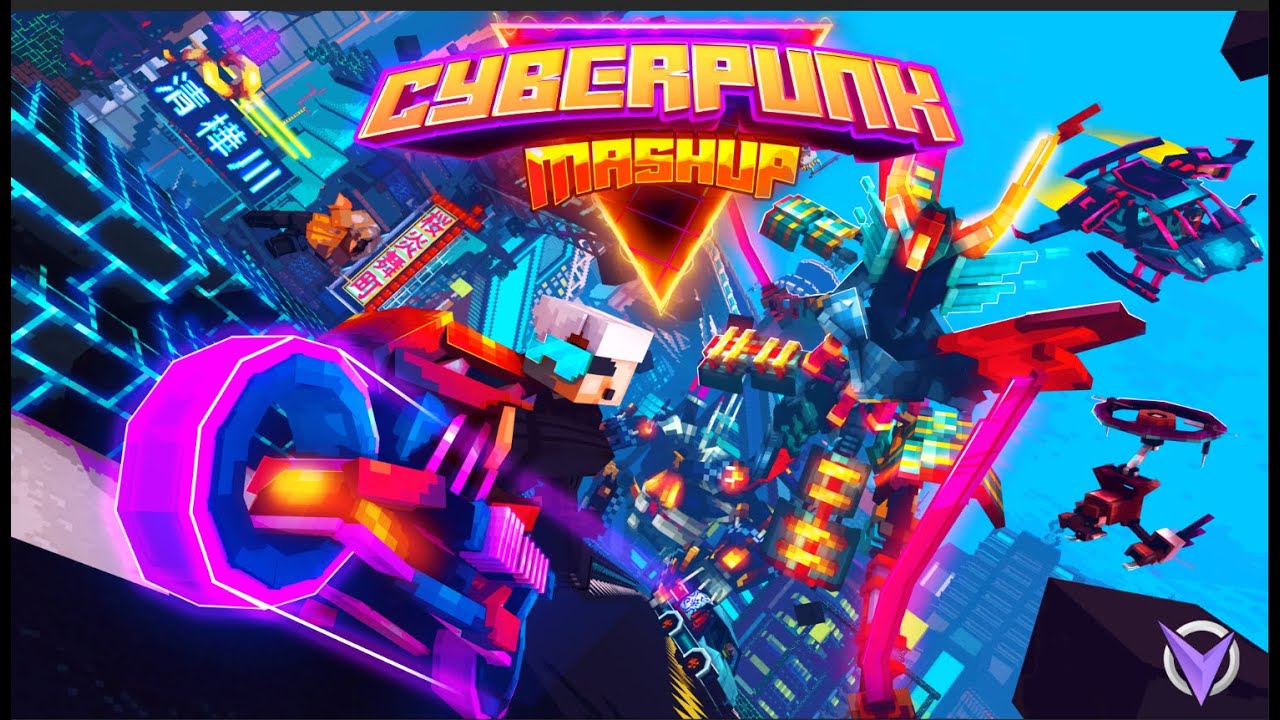 Cyberpunk Mashup  by Team Visionary adds in a stunningly expansive cyberpunk reality where robots, machines and neon lights lurk around every corner. Can you flourish in a bustling cyberpunk city that has become the playground for the robotic elites? Follow an engaging storyline, fight robot bosses and fearsome machines, and solve all the mysteries of this beautiful city. 
The pack comes with a whopping 20 HD skins that all fit the cyberpunk setting, as well as a 1.16 HD Minecraft cyberpunk resource pack that will fill your world with bright, vivid colors. Explore the world in cars, bikes, or even various air vehicles which are all themed in cyberpunk. Use these vehicles to travel around the city of massive skyscrapers to story locations or to fight the three bosses of the map. Each boss has its own mechanic for you to explore and fight against, so grab your friends — or just your trusty weapons — and get ready for a fierce fight!
Download Cyberpunk Mashup
Sakura City Superheroes by Ready, Set, Block!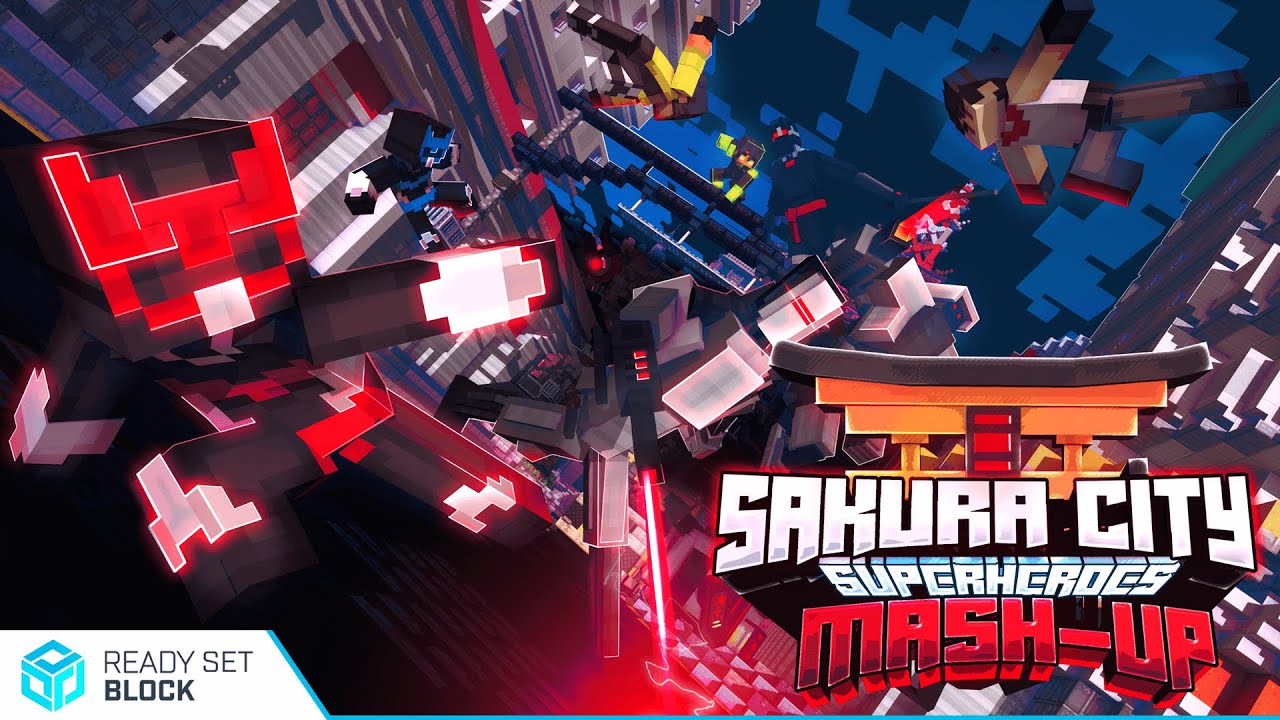 Sakura City Superheroes by Ready, Set, Block! adds in a massive city for you to explore and discover the city of. Humans have been overtaken by robots they once used in their daily lives, now it's up to you to save the city and the world by fighting and destroying the evil Oyabun robots. Explore the city and fight these robots using two high-speed vehicles.
The pack adds in over 10 different robot enemies which you will encounter during your time in the city, challenge these robots and wipe them out to reclaim the city. You'll also be able to enjoy a free resource pack for 1.16 with over 40 FREE skins! 
Download Sakura City Superheroes
Conclusion
And there we have it! Forge your own tales of friendship within the world of Dragon Mashup, speed through the neon streets with Cyberpunk Mashup, or save the world with Sakura City Superheroes! What world will you venture forth into first? 
With such a wide range of maps, we certainly hope that you've managed to find one that you and your friends will have a blast playing amidst this list. Enjoy!