Hello, everyone! We at Team Visionary hope that you've had a great week. It's Christmas Eve, and we hope that you're staying safe, warm and healthy, whether you're with your families or having to sit this one out alone. It's certainly been a year and a half, but with 2021 and the promise of a better year looming on the horizon, there's hope! 
And what better way to kick off the start of a hopefully great new year than with our favorite video game, Minecraft? After all, after the hectic chaos of 2020, who has the energy for dull and dreariness in video games? We could all use a bit of bright cheer and joy in our lives! That's why today, we have a spectacular list of the newest and best Colorful Minecraft Resource Packs of 2021 for you guys. 
Cartoon Craft by Goe-Craft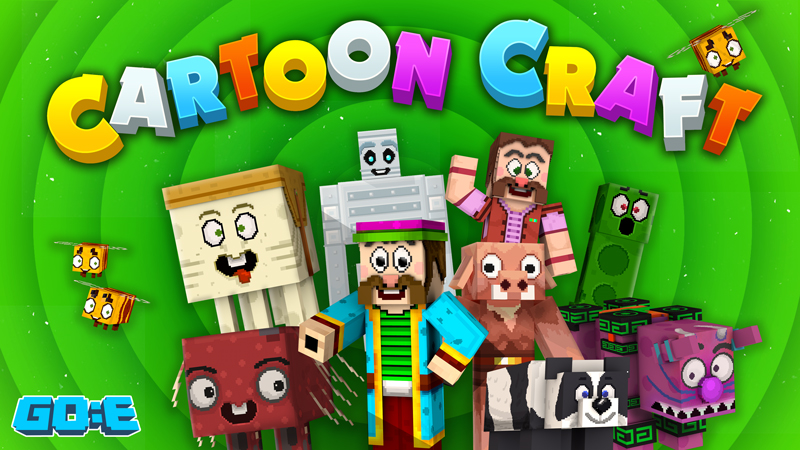 Starting off strong is Cartoon Craft by Goe-Craft. No matter how bad your day is going, it's impossible to keep a frown on your face when you're surrounded by the textures in this resource pack! Cartoon Craft introduces a cartoon world full of fun and joy, with block, item and entity textures of rich colors and detailed patterns.
To make matters better, Cartoon Craft is a 64x high resolution texture pack, ensuring that your experience with this resource pack isn't just happy, but also high quality. It also comes with 10 FREE HD skins for your wearing pleasure! Enjoy the hilarious mobs in custom outfits or explore the world in technicolor HD with this lovely resource pack. 
Kawaii Anime by Giggle Block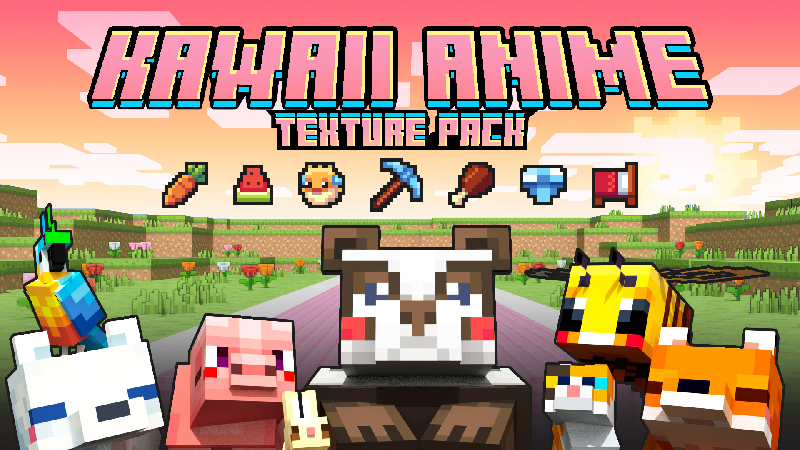 We certainly couldn't skip a pack that claims to have been "made with the power of friendship", which we're all needing a little more of this trying year. This pack really doesn't hold back, delving fully into both the promised "Anime" and "Kawaii" aspects of its name. All mobs have been retextured to look a little more detailed, and most noticeably — are all now blushing vividly across their cute little pixel faces. 
The items in this pack have been re-skinned as well, to take on a more cartoon-y and charming look. And of course, all the blocks have now taken on bright pastel hues that really lift your spirits even with a glance. In all, this pack gives everything a bright and colorful feel that I would highly recommend. Plus, it comes with 8 free anime skins that the pack swears up and down will be absolutely "kawaii". 
True Craft by Goe-Craft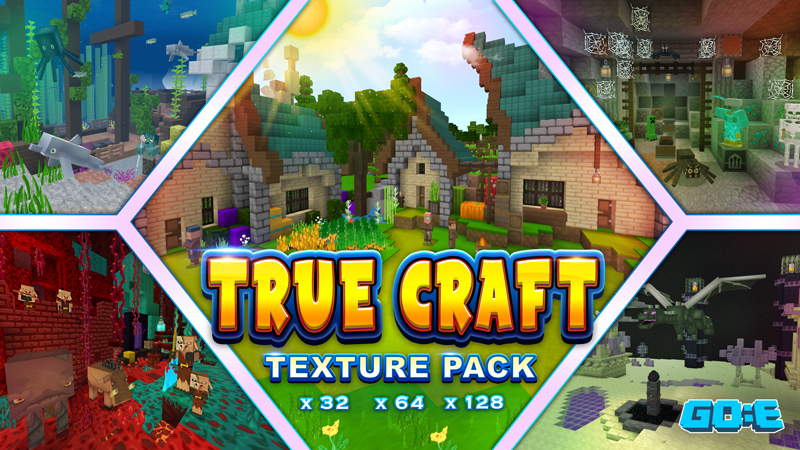 We're taking a little break from the cute and cuddly to present a truly (hah) high quality pack — True Craft, by Goe-Craft. The pack makes its mark on every single block, item, entity and texture with its highly detailed and stylized custom artstyle that renders the familiar Minecraft world in a much richer and brighter light.
The pack is fully updated for 1.16, meaning that you can venture into the Nether safely without fear of broken or missing textures. Not only that, the pack also supports a whopping 3 different resolutions: 128x, 64x and 32x, ensuring that no matter the specs of your PC or your personal preference for style, you'll be satisfied with this bright, happy pack. And just to top it all off, it also comes with 12 free HD skins — a truly wonderful pack for its value that guarantees you'll maximize the bang from your buck.
Paisley Craft by Goe-Craft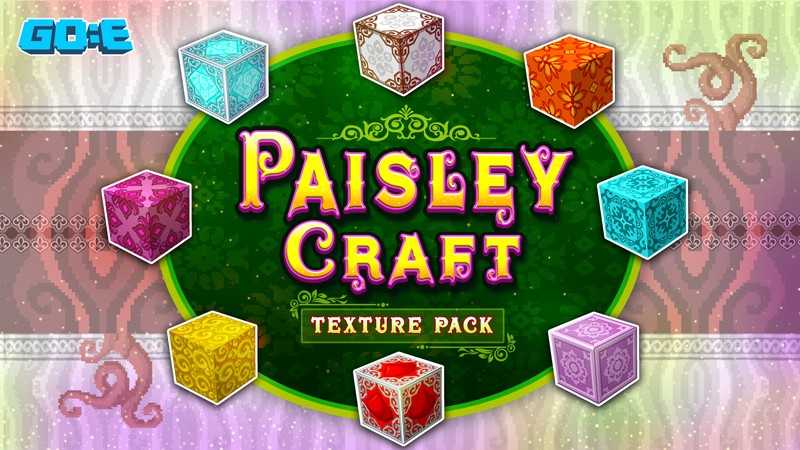 Another beautiful pack by Goe-Craft, Paisley Craft offers your Minecraft world a gorgeous makeover without sacrificing the beautiful, whimsical signature style of this studio. Paisley Craft utilizes beautifully exotic, colorful patterns that it plasters on every block, item and entity, creating a unique experience like none other. It's one of the few resource packs we can truly call artistic. 
As always, this pack is also 1.16-ready, and even specifically addresses the new Nether mobs with their own unique style. The pack comes in the rare HD resolution of 64x. which offers a super crisp and high quality Minecraft experience, especially when paired with the resource pack's great mastery of color palette. The pack also comes with 8 FREE HD skins, adding sizable value to the pack for its price. 
Advanced Default Textures by Goe-Craft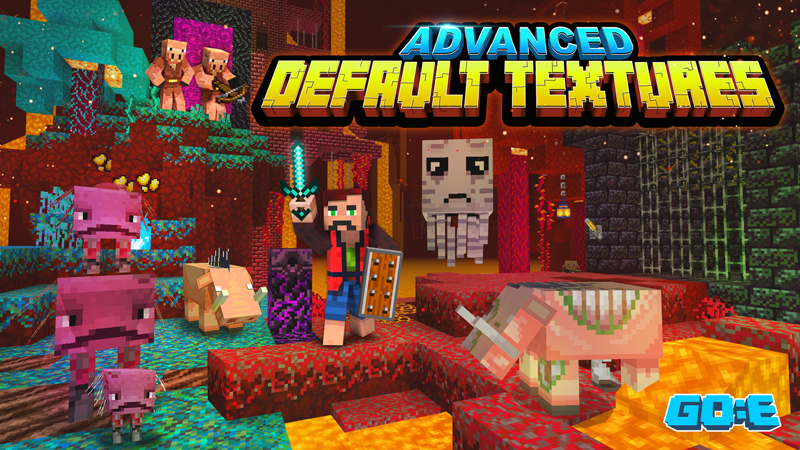 Last but certainly not least is a treat for the players who are a big fan of the vanilla textures (and they are certainly charming!) but want to change it up a little sometimes. Following true with the vanilla resolution of 16×16, Advanced Default Textures changes up the textures that we all know and love by smoothing them out a little and switching up the color palette to create an experience that's familiar but new at the same time.
Although it's reminiscent of the vanilla textures, Advanced Default Textures promises that each of its block, item and entity textures are hand-made pixel art, and we can certainly tell! It also adds a little twist on each mob, making them a little cuter (and let's be real, some of those Nether mobs could really use that) and more colorful. 
Download Advanced Default Textures
Conclusion
Sometimes you play Minecraft to fight and destroy your friends in minigames. Sometimes to speedrun the ender dragon and test the limits of mortal hubris. But sometimes, you just want a bit of peace and quiet, spent in the comfort of the pixels that have stayed constant throughout your life. 
We hope that this list has given you new ways to appreciate the beautiful, explosively popular game that is Minecraft. Thanks for the read! 
Didn't find anything you liked on this article? We're sorry to hear that! Don't worry however, we've got you covered. Why not try and make your own Minecraft resource pack that will meet all of your standards and requirements? Check out how on our Everything to Know About Making a Minecraft Resource Pack article here!