Hello! We at Team Visionary hope you had a nice week! Today, we're here with the 5 Best Minecraft Mashup Packs to Kick Off 2022. 
Minecraft is a lot of things to a lot of people: for some, it's a fun and casual pastime; for some, it's a career and full-time job. Some players live for the adrenaline rush of competing against other players in heated, bloody battles. Others might spend their Minecraft days tilling away at wheat fields, and their nights huddled in cozy little farmhouses. 
For a small community of creative content creators, however, this wondrous game and its flexibility is nothing less than their own personal universe, a platform to build and create where the sky's the limit (and sometimes not even then). 
Here are some examples of such creativity where map designers, writers and artists have come together in unity to create incredible experiences in the form of mashup packs. 
Mashup packs are all-in-one experiences that include a resource pack, beautiful builds, custom mechanics, models and textures, and most importantly: hours and hours of fun! They're guaranteed to give you the most bang for your buck, and they're perfect for any player looking to sink a few fun-filled hours into Minecraft with a group of friends. 
These are the best Mashup Packs we could find to kick off the start of January 2022 with — enjoy!
Advanced SkyBlock Mash-Up By Entity Builds
If you're a Minecraft player of any sort, it's likely that you've played Skyblock before — if not had your fair share of it. However, we're sure that you've never had any sort of Skyblock experience like this one. Advanced Skyblock Mashup by Entity Builds brings tons of stuff to the table. you're up for the challenge and have what it takes to be the master of the skies? 
This mash-up pack will grant you the wings (figuratively and literally!) to take on the ultimate skyblock challenge as you explore through this amazing pack. What truly stands out with this Skyblock Mashup is the sheer amount of custom content it comes with — custom currency, breathtaking builds and interactive chunks, and more! Only when you complete this pack successfully, can you truly claim the title of Ultimate Skyblock Champion.
And if you need one last little push, you'll also get free gifts as you complete this pack, and 30 free HD skins on purchase!
Download Advanced SkyBlock Mash-Up
Adventurer's Dream Mash-Up by Nox Crew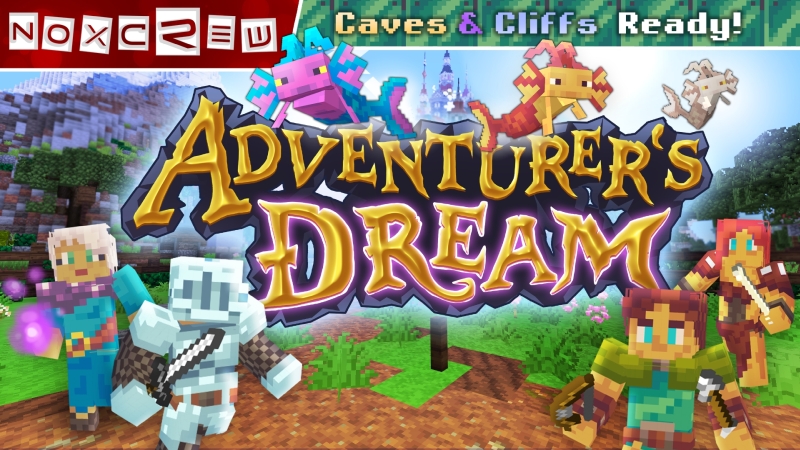 Wander into the unknown in this magical dream world, where you can find adventure in every corner! Discover mystical treasures and uncover secrets while you complete your quest to summon the legendary dragon. This mash-up comes with a fantasy texture pack that can be used in any one of your Minecraft worlds to give it a lovely medieval feeling!
The creatures on this map range from beasts to wild unicorns, see if you can discover them all on this explorative map. You can ride the unicorns and horses around with all your friends for easy travel! Live like a real adventurer and conquer 10 epic dungeons and collect your treasure! 
Download Adventurer's Dream Mash-Up
Lucky Plants Mash-Up by Teplight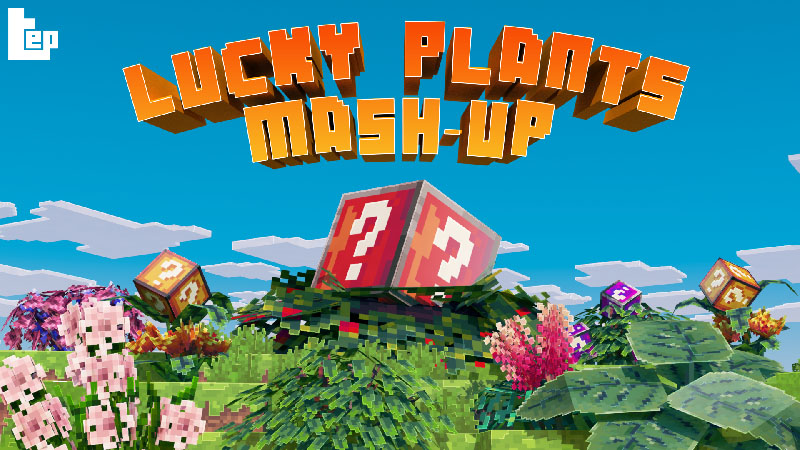 The Lucky Blocks gamemode has seen a lot of popularity on the market, and unfortunately, as with most popular gamemodes, there have been tons of bland, washed up takes on the whole thing that can get a little tiring. Thankfully, Lucky Plants Mash-Up by Teplight isn't one of them! If you're a fan of Lucky Blocks looking for a new and unique take on the tried and true Lucky Blocks gamemode, then you're in luck (pun intended)! This mashup is exactly what you're looking for.
Lucky Plants Mash-Up takes what makes Lucky Blocks so great — the delightful surprise of finding rewards in each Lucky Block, as well as the suspense as you crack one open: is it loot, or is it a horde of creepers primed and ready to ruin your day? However, this pack adds its unique twist to the gamemode, in the form of plants! You'll be able to grow your very own Lucky Plants in your farm, ranch or backyard. Wait for them to bloom into absolutely gorgeous custom-rendered plants, and see what you get! Be careful not to overwater them though, and maybe bring a friend who has a green thumb or two.
Color City Mashup by Odyssey Builds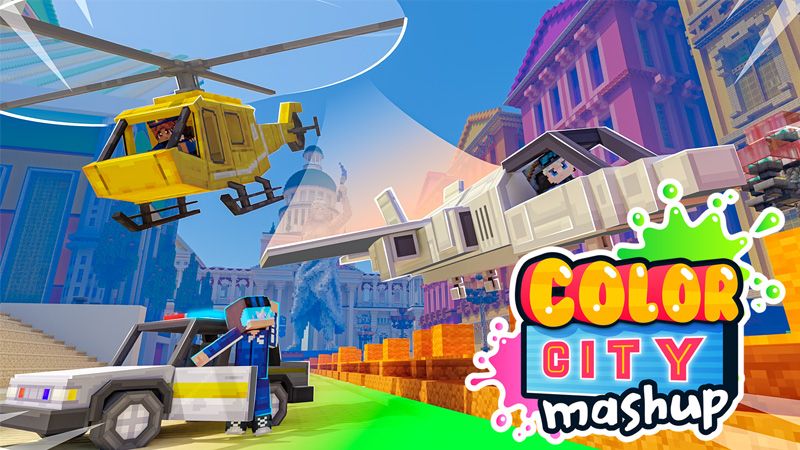 Enter the walls of Color City, and paint it your way! With that bold tagline, Color City Mashup by Odyssey blows it out of the water with a beautiful, vibrant mashup pack that has everything you could ever need for a modern city play through filled with whimsy and wonder. Zoom through the streets with tons of custom modeled vehicles, explore the countless locations — such as the zoo and pier — and take part in legendary paintball fights with your friends! Why not also take a look at some Minecraft Interior ideas from the Team Visionary development team.

This pack comes with a fully built and fleshed out, colorful city for you to explore, as well as 12 vibrant teen skins, AND 2 free skins! Naturally, being a Mashup pack, it also comes with a full, wondrous resource pack that you'll be able to use on any server or realm. What are you waiting for? Pack your bags today and move to the City of Color! 
Tropical City Resort Mash-Up By Team Visionary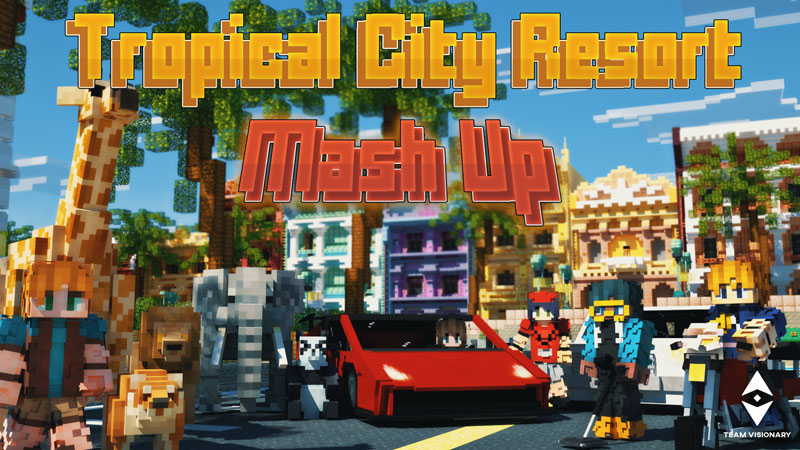 Shooting and looting in these incredibly interactive Minecraft mashup packs can be fun, but sometimes you need a break from being a hero. If you're looking for a lovely, relaxing time to be had, then Tropical City Resort Mashup by Team Visionary has got you completely covered! 
This mash-up pack takes you to a beautiful tropical city, where you get to lounge in the first class room of the most luxurious resort around! Once you're done showing off your awesome suite, you and your friends can head to the beach and let the cool ocean breeze wash over you —  or explore the custom – built, enormous city in a fancy sports car. The possibilities are truly endless!
This mashup pack comes not only with gorgeous builds, but also 29 unique and functional vehicles, a free texture pack and over 20 custom animals. You can also customize your room as you see fit with the 56 custom decorations and furniture. What are you waiting for? Download it now and enjoy an endless vacation in the Tropical city! Stay up to date with the latest Minecraft news with the Team Visionary Minecraft Blog.

Download Tropical City Resort Mash-Up
Conclusion
And there we have it! Enjoy a peaceful day on the beach in the Tropical City Resort, explore a vibrant city in Color City, or grow your own lucky garden in Lucky Plants Mash-Up. What world will you venture forth into first? 
With such a wide range of franchises, we certainly hope that you've managed to find tons of fun-filled hours amidst this list. Enjoy!