We at Team Visionary hope that you've had a great week, we have a spectacular list of the 4 Best Minecraft Lucky Block Minigames of July 2021 for you guys. 
Minecraft is a lot of things to a lot of people: for some, it's a fun and casual pastime; for some, it's a career and full-time job. Some players live for the adrenaline rush of competing against other players in heated, bloody battles. Others might spend their Minecraft days tilling away at wheat fields, and their nights huddled in cozy little farmhouses. 
For the community of creative content creators, however, this wonderful game and its flexibility is nothing less than their own personal universe, a platform to build and create where the sky's the limit (and sometimes not even then). Minigame maps are the perfect example of this, where content creators manage to take a game based in open-world survival and turn them into all sorts of creative gamemodes: parkour, survival games, PvP, mafia-based and other genres that you can enjoy with your friends. Why not also take a look at the various Minecraft slim skin templates we have detailed.
Lucky Blocks are one such genre, and a popular one at that! The concept of Lucky Blocks essentially combines the appeal of the randomness of lootcrates with the survival aspects of Minecraft, allowing players to open Lucky Blocks to discover incredible prizes — or less than desirable ones, such as a creeper dropping on your head. Of course, on its own, it can get kind of boring, so here are some of the best Lucky Block maps that add a unique twist to the already – wonderful concept.
Without further ado, let's get into things!
One Block Lucky Block by Chunklabs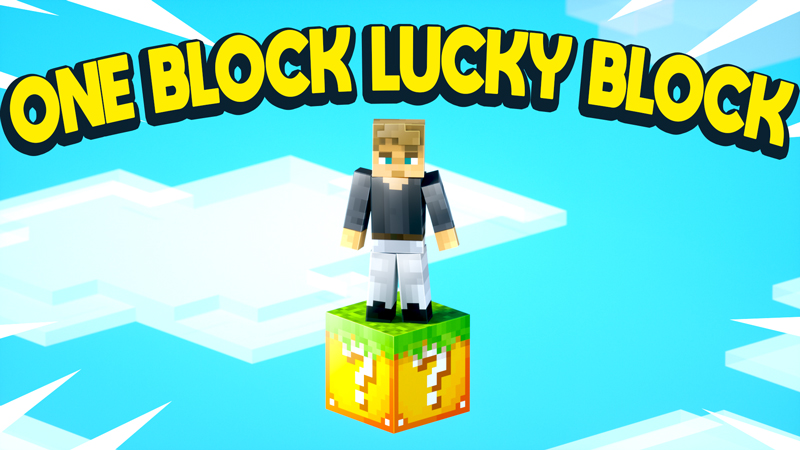 This mini game combines two popular minigames; the first being the highlight of this article, of course, Lucky Block. The other is the minigame called One Block. We've covered this nifty little minigame in one of our articles before, and it's a gamemode where you spawn into a Skyblock world and you quite literally only have, well, one block to work with. Breaking the block gives various rewards, so you'll go from one block to building a massive base in which you sustain yourself and gain items from. 
So, as one might expect, this minigame introduces the exact same concept.l However, instead, you'll start with one lucky block in which you will get the items you need. However, with great reward comes great risk! You'll need to be extra careful, because these blocks sometimes contain something that might cause you some pain, these can be a horde of zombies, or maybe some TNT… Or more! You'll soon find that these are not the only things that can mess you up — but they're also well worth risking when rewards include diamonds, enchantments, houses and more!
Download One Block Lucky Block
Lucky Skyblock Desert Valley by Waypoint Studios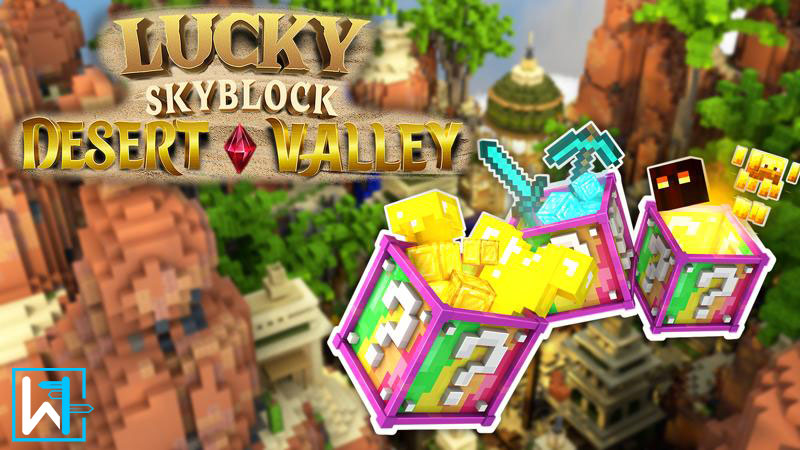 Take the concept of Lucky Blocks to a whole new level with this incredible desert Skyblock map. Lucky Skyblock Desert Valley by Waypoint Studios adds in ten whole new types of random event – filled Lucky Blocks for you to test your luck with. From these blocks, you and your friends will be able to obtain amazing enchanted weapons, armor and tools to properly conquer your little island. However, if luck isn't on your side, you may simply get something that'll ruin your day. Why not take a look at some of the extra home related resources such as the Team Visionary Minecraft Spruce House options.

Within this desert valley – themed Skyblock map, you can experience over one hundred events that revolve around the Lucky Blocks. Take a look at what each has to offer and find the one you enjoy the most! At the end of it all, test your luck and skills by battling it out against your friends, or work cooperatively and build your kingdom in the sky. May the blocks be ever in your favor! 
Download Lucky Skyblock Desert Valley
Lucky Block Temple by Waypoint Studios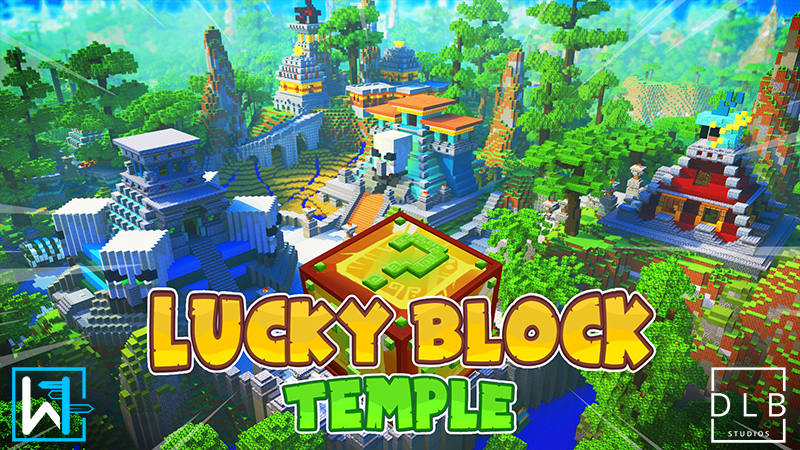 Everyone loves to win! And nothing beats the feeling of cracking open a lucky block to get handsomely rewarded with ores, treasures and loot beyond your wildest imaginations! (Well, that's what happens… most of the times, anyway…) After some time, however, Lucky Block maps can kind of lose their appeal and freshness, especially if they're just regular lucky blocks plopped into a generic Vanilla survival world. Thanks to Lucky Block Temple by Waypoint Studios, you can now experience lucky blocks like never before!
Enjoy lucky blocks in a new light as you travel across temples that contain the oldest lucky blocks known to mankind. Be careful though! These temples are known to be riddles, guarded by deadly traps that ancient civilizations built to protect their long lost treasures. Will you be able to discover all the lucky blocks and claim the loot for yourself?  The guys at Game Reviews have rated this Mini game highly in their recent independent reviews.

Lucky Block Hacker by Doctor Benx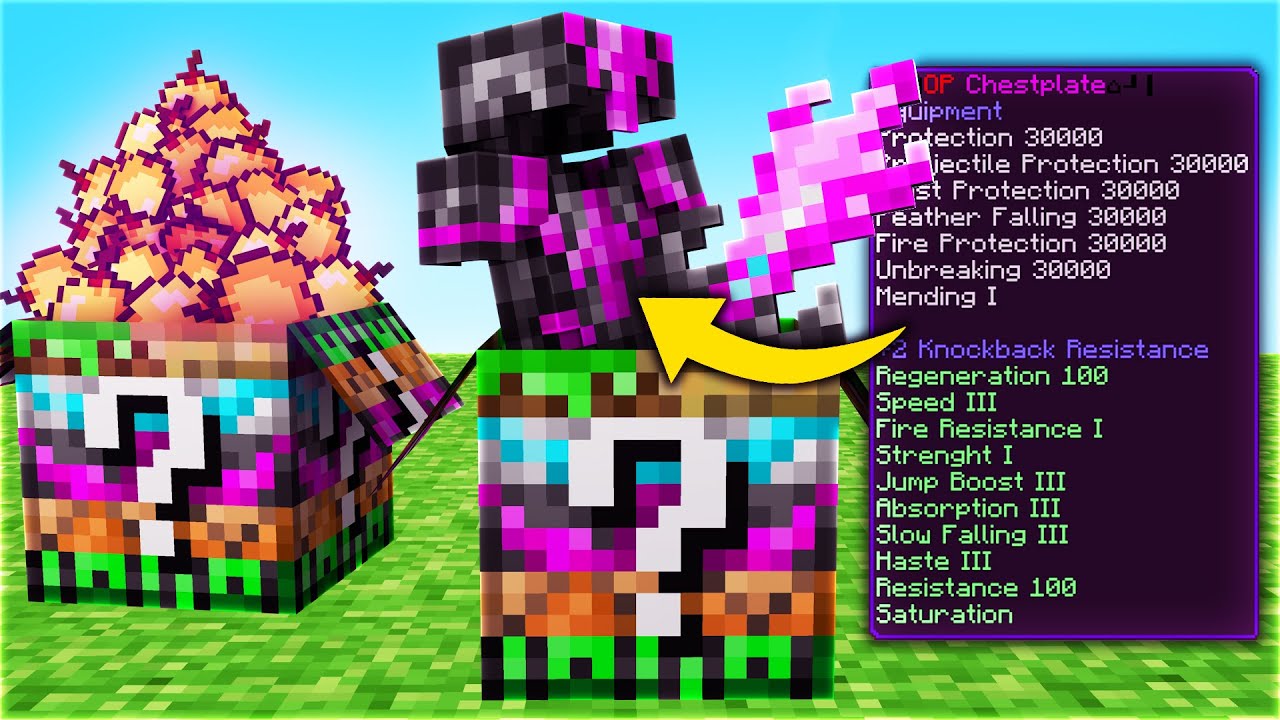 Last, but certainly not least, Lucky Block Hacker by Doctor Benx is a massive minigame that includes over 100 random outcomes. Starting from hacker enchantments that literally make you a god, to a final single player boss to put those enchantments to the test.  
Play singleplayer and challenge the final boss or join together with your friends to craft custom armor with effects. The minigame adds in 5 new sets such as the Hacker and the Admin set, letting all you tryhard players out there empower yourselves with godly amounts of enchantments. These enchantments far exceed the vanilla level cap and allow you to go to a whopping Unbreaking 30,000. This minigame also adds in maps which are used to get these items — race with your friends to see who can get to 'em first, then duke it out in the custom PvP arena to test your fighting skills and enchantments. Get crowned the winner in front of all of your friends!

After all is said and done, test your all by challenging the final single player boss, geared up with powerful weapons and armor. Take down the god of the world and claim the title for yourself in this dynamic, fast-paced map!
Download Lucky Block Hacker
Conclusion
Thanks for reading our 5 Best Minecraft Lucky Block Minigames of July 2021!
Minecraft players are incredibly creative, and so are their creations. Nothing embodies that more than the innovation shown in each and every one of the survival spawns showcased on the Minecraft Marketplace. So while vanilla Minecraft is awesome, you're definitely missing out if you haven't tried a survival map, minigame or other custom gamemode!
We hope that with the wide range of themes, genres and play styles shown here, you'll be able to find the perfect map for you and your friends to play with.